Wind and Tornado Damage – Commercial Claims
Steven Vanuga

Strong heavy winds and tornadoes can cause considerable damage even to the most well constructed buildings. High winds are capable of causing extreme destruction, including uprooting trees, tearing off siding, ripping off roofs, and turning debris and loose objects into projectiles. On top of that, additional commercial property damage can occur when wind gets inside of a structure due to broken windows, doors, or damaged siding and roofs.
If your business has been damaged due to a tornado or a windstorm, make one of your first calls to the experts at Adjusters International/Basloe, Levin & Cuccaro. We know that in the wake of a disaster, your focus should be on getting your life and business back in order and not on learning the insurance claims process. Our adjusters will be with you every step of the way, from reviewing your commercial policy, to categorizing your losses, to meeting with the insurance company's adjuster.
Trust in the experts at Adjusters International/Basloe, Levin & Cuccaro to guide you through your wind or tornado damage insurance claim. For more than 100 years, we have been helping policyholders with their property damage claims and have a long list of clients and business owners who have achieved a full financial recovery after experiencing wind damage.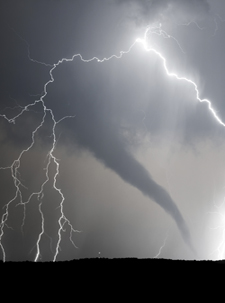 Contact us today to see how we can assist you on the road to recovery.
Treadwell Bay Marina & Resort

 

It was abundantly clear from the outset that we would require the services of a public adjuster given the slow initial reaction from our insurance company, the conspicuous absence of our insurance agent, and the inherent complexity of the claim… The claim was handled in a very professional manner, we were kept constantly informed and the end results greatly exceeded our expectations.
Gary Titherington
Managing Partner