Snow/Ice Damage and Collapse – Commercial Insurance Claims Help
Darin R. Checchia

With offices in New York, Maine, New Hampshire, and Pennsylvania, the public adjusters at Adjusters International/Basloe, Levin & Cuccaro are very familiar with snow and ice commercial damage claims. Winter storms can bring feet of heavy wet snow, causing even the sturdiest roofs to collapse. As large commercial buildings often have flat roofs, they tend to be more susceptible to collapse than smaller structures with pitched roofs, thereby increasing their chances of suffering damage after a winter storm.
Depending on the terms of your insurance policy, after a winter storm your business may be eligible to file a claim under some or all of the following coverage provisions:
Property Damage (Buildings, contents, etc.)
Business Interruption and Extra Expense, directly resulting from the property damage
Business Interruption, caused by property damage at customers' and/or suppliers' locations.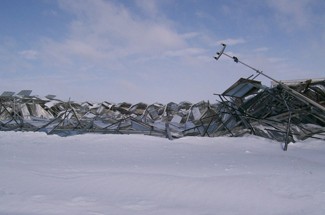 No property is immune from harsh winter weather, and our public adjusters are here to help you make a full financial recovery in the wake of a devastating storm. We will be there to help you address your immediate needs, including assisting with securing the property and damaged area. Our building and contents estimators will be onsite straightaway to start documenting and proving the full extent of your loss.
When you hire us, our public adjusters assume the responsibility for your insurance claim, and take on the full workload for proving the loss to your insurance company.From a complete review of your commercial insurance policy through the final negotiations with your insurance company, our team will lead you through the entire claim filing process—freeing you up to focus on getting your business back in working order. Trust the experts at Adjusters International/Basloe, Levin & Cuccaro to guide your business through your snow or ice damage claim. Contact us today to see how we can assist you on the road to recovery.
 

…Working together, the team took charge and organized a catastrophic loss into manageable solutions, far better than I could have done on my own. …As a small business owner, we are confident, self-reliant, and accustomed to managing all of the daily tasks and challenges alone. This though is one BIG exception. What a great feeling it was to have a partner, confidant, and advocate, fighting in my corner for me!
Lawrence Hobbs
Hobbs' Home & Hardware, Inc.
Winterstorm and Collapse Client References
We have a long list of satisfied clients who we have helped receive a fair and just settlement from their business insurance claims, including the following winterstorm and collapse client references:
Absolute Hair Salon, Utica, NY
Bizzarro's Towing & Salvage, Inc., Erie, PA
Boscar Electric Co., Inc., Utica, NY
Brooks House Realty, LLC, Brattleboro, VT
Canton-Potsdam Hospital, Potsdam, NY
Car Smart Holding Corp., Johnstown, NY
Carr Hardware & Supply Co., Pittsfield, MA
Custom Corners, Oneida, NY
Hepburn Medical Center, Ogdensburg, NY
Hobbs' Home & Hardware, Inc., Sylvan Beach, NY
Kmart Plaza, Utica, NY
M & L Properties, Utica, NY
Meadow East Apartments, Potsdam, NY
Middlesex Marine Sales & Repair LLC, Portland, CT
Norm Siekan TV & Appliance, Utica, NY
Northeast Granite Company, Inc., Montpelier, VT
Northland Plaza Shopping Center, Watertown, NY
Oneida County Historical Society, Utica, NY
University Mall Shopping Center, Canton, NY
Additional Information Insurance Coverage for Collapse
Adjusting Today Insurance Coverage For Collapse: How Has It Changed and Why?
This issue of Adjusting Today takes a close look at insurance coverage for collapse, including how it has evolved, how it has been interpreted by insurers and the courts, and some of the latest forms developed by the insurance industry to further define it.