Fire Damage – Residential Insurance Claim Help
Steven Vanuga

As those who have suffered from a fire will attest, you do not realize how emotionally, mentally, and physically drained you will feel in the aftermath. When a fire damages your home, it pays to have an expert on your side to assist you through the insurance claims process. Let our public adjusters save you the time and stress that comes along with filing a fire damage insurance claim.
Insurance companies require that claims include an extremely detailed level of documentation. It is up to you, the policyholder, to prove the full extent of your residential loss to the insurance company. Trust the experts at Adjusters International/Basloe, Levin & Cuccaro to be your advocate to the insurance company, securing the maximum settlement from your fire damage claim. Our public adjusters take care of all the details, and communicate their progress to you every step of the way.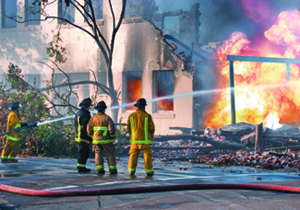 For more than a century our company has been helping policyholders and homeowners with their property damage claims. We have a long list of clients for whom we achieved a full financial recovery after they suffered fire damage to their home and are happy to share this list with you at any time.
Contact us today to see how we can assist you on the road to recovery.